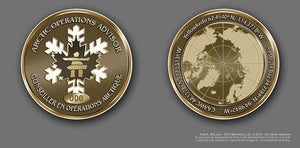 The Arctic Operations Advisor Coin
Regular price $0.00 $19.00 Sale
Please Note : To maintain the credibility and preserve the symbolism of the coin, only qualified Arctic Operations Advisors or those qualified Advanced Winter Warfare will be able to purchase it. Only one coin will be issued to an individual. We will require all available information about the course you graduated including but not limited to: dates, location, home unit, and course serial. To ease the process, you can email us a copy of your course report or certificate (a picture will suffice as long as information is visible). 
T-Shirts wear out, stickers peel off, and beer glasses break.
This is the first centrally issued, serialized, and recorded coin available to those who have completed the Canadian Armed Forces "Arctic Operations Advisor".
The Canadian Army has always had an interesting relationship with the Arctic. Canada's Arctic is a region that is extremely unique due to its extraordinarily cold weather and tremendously arduous topography. There aren't many places in the world like it. The challenges that Canadian soldiers are tasked to overcome in the Arctic region are unique. It is essential for Canadian soldiers to be trained and ready to overcome the trials of this environment and terrain. Generations of Canadian soldiers have deployed to this isolated, challenging and rugged place. With a long history of the military in the North, the Army introduced a formal qualification, Arctic Operations Advisor. This course produces an expert who is without equivalency in the world. The course is designed to take soldiers outside of their comfort zone and provide an opportunity to liaise and learn how the Inuit live and have lived in the Arctic environment. This coin is a source of pride. The coin is embossed with a snowflake, a maple leaf, and an Inukshuk. The snowflake symbolizes Arctic warfare in many different militaries. The maple leaf symbolizes our Canadian heritage and the Inukshuk represents the Inuit people. On the reverse of the coin, is a map of the Polar region. The outside ring has the Longitude and Latitude of Yellowknife NWT, Resolute Bay NU and CAAWC ON, the three main places the course is conducted.